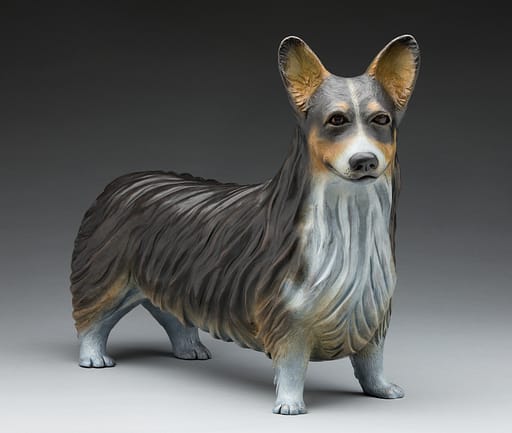 Photos by Jafe Parsons
Description
Bronze Sculpture of a Pembroke Welsh Corgi
Life-sized: 16″ H x 21″ L x 6″ D
Limited Edition of 12
"CHIHULY" is a special Pembroke Welsh Corgi dog with a real 'big dog' personality. Nothing is too big or too intimidating for her. She was able to take on a Rottweiler with a Tug of War Rope Pulling Contest and she WON !
Additionally, when Chihuly went to college with her owner one day, she ran away from him down the hall, and went into the Art Studio Lab where students were working. She quickly picked out a special young lady at work and hid under her work bench. When the owner came in calling for "Chihuly" he found her hiding under the Artist's Table… Long story short…Chihuly introduced them, and a few years later they were married. In the coming years Chihuly went along with this couple to live in Ohio, on to Illinois, then to Massachusetts, next to Connecticut, and on to California…so Chihuly was a real loyal companion, from the East Coast to the West Coast.
So, from a great personality to a beautiful sculpture. I try to capture the special personalities in each dog that I immortalize in Bronze Sculpture. These sculptures can be placed in your home or be put outdoors. They are always ready to greet your visitors with a happy pleasant look.
If you have a Pembroke Welsh Corgi of a different color, we can cast your bronze and make the Patina match your dog's color and markings.