Anita began doing pen & ink illustrations for her clients requesting sculpture commissions. The illustrations allow the client to easily visualize the proposed sculpture, often drawn in its final environment, and are provided with all formal commission presentations.
These illustrations quickly became very popular with the general art public and soon requests started coming in for portraits of children and animals. Anita really enjoys creating these illustrations and finds them a welcome interlude in her sculpture work.
Anita is now taking requests for commissioned portraits in pen & ink, and will be glad to discuss your requirements for a personalized illustration. She is very adept at finding and illustrating the unique traits that make your child or your pet so extraordinary.
---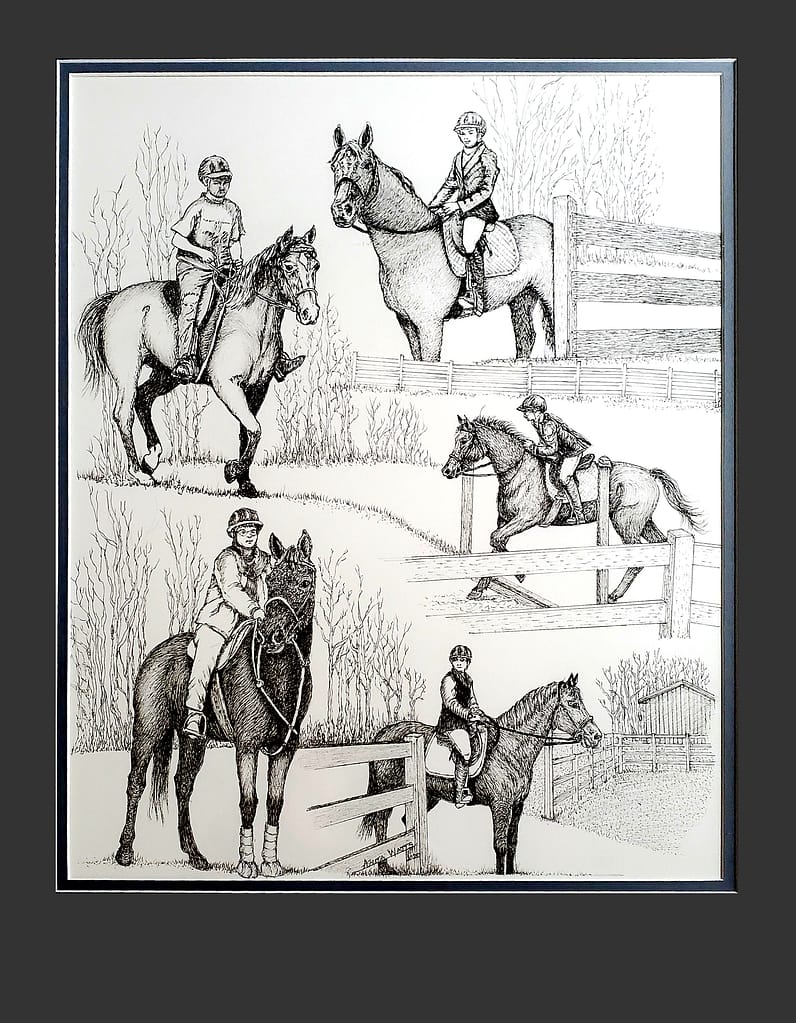 Charlotte, Story & Timber
Ink drawing – 20″ x 24″
---
Early Imprinting
Ink drawing – 21″ x 24″
Anita and Patsy – My 1st Pony.
---
Ellen's Patriott
Ink drawing – 20″ x 22″
---
Introductions
Ink drawing – 21″ x 24″
Dog and Cat meet for the 1st time.
---
Jacob, The Bethesda Bulldog
Ink drawing – 20″ x 24″
---
Put-In-Bay
Ink drawing – 22″ x 26″
---
Musketeer & Roni
Ink drawing – 16″ x 20″
---
Mystique & Bey-Rose Gal
Color Pencil – 18″ x 21″
---
Mystique & Bey-Rose Gal
Ink Drawing – 18″ x 21″
---
Never Again
Watercolor of an Indian – 20″ x 22″
---
The Polish Arabian: Janow Podlawski
Color Pencil – 21″ x 24″