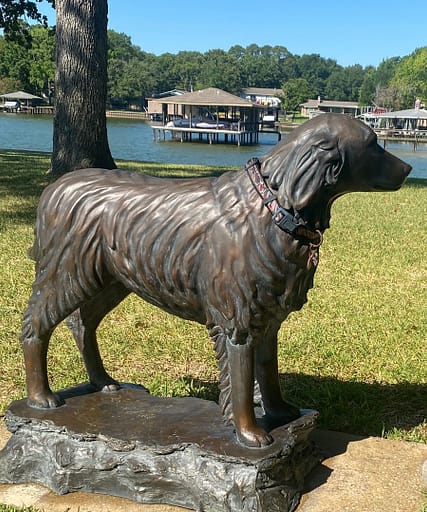 Description
We acquired Coco when we were assigned to England. More accurately , from a litter of six he jumped into my lap and adopted us! Coco grew up with our young kids and became part on our family for 15 1/2 years. He was incredibly smart and loyal. Coco knew how to work a room of guests at our parties better than our kids.
We commissioned Anita to create our wedding anniversary memento when Coco was about 8 years old. He is a permanent fixture now at our resident LakeHouse outside of Dallas, thanks to Anita.   Now even our grandchildren can enjoy him. We have not gotten a dog since Coco passed, as we think him irreplaceable.

We highly recommend Anita as she took great pains to " get him just right" and the sculpture is very high quality & holding up well in the Texas heat.

Written by Dave Hoffman, owner.