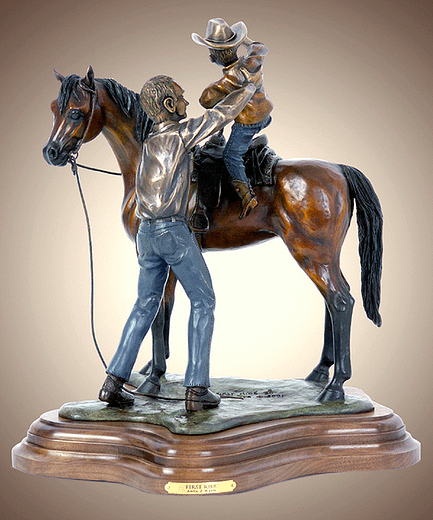 Description
"First Ride"
Size: 16″ H x 14″ W x 15″ L
Limited Edition of 12
Do you remember your first ride? That thrilling day Grandpa put you up on his horse for the very first time? In this bronze Anita is capturing the thrill of the moment in mid-air, as the proud grandfather lifts his grandson up for his first ride.
The horse turns slightly to watch the child being lifted up, and flicks an ear to listen to her old-time friend. The child, is full of excitement, but yet apprehensive of what is to come. A nostalgic moment caught in time.
From the child-sized saddle to the gentle snaffle bit in the horse's mouth, Anita has accurately shown this special relationship of joy and trust between the child, his grandfather and the horse. From such simple acts, the love of the horse is passed down from grandfather to grandson.