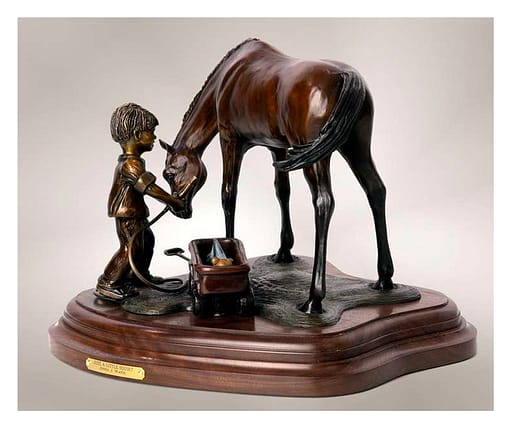 Description
"Just a Little Squirt"
Size: 12″ H x 13″ L x 13″ W
Awards: PCCA Annual Open Juried Show: "1st Place Professional Sculpture" & "Best of Show"
Limited Edition of 12
I was over at a friend's house one day as she was getting things ready to give her horse a bath. The mare was grazing in the yard as my friend's little son picked up the water hose and gave his Mom's horse a big squirt of water. The mare shook her head and swished her tail and looked at the little boy. When his Mom returned, she asked him what he had done and he said: "I only gave her a little squirt."
I created this sculpture and made the mare's mane and tail look wet and clumped together and then put a big puddle under the mare, the boy and his wagon. The title refers to both the little boy and to what he said in reply to his mom's question.
Multiple patinas were used on this piece and I decided to make one of a bay mare and another of a dappled grey. The base is solid walnut and rotates so the sculpture can be enjoyed from all sides.
"Just a Little Squirt" is a Limited Collector's Edition of 25 and comes with your choice of a bay or a grey horse patina.