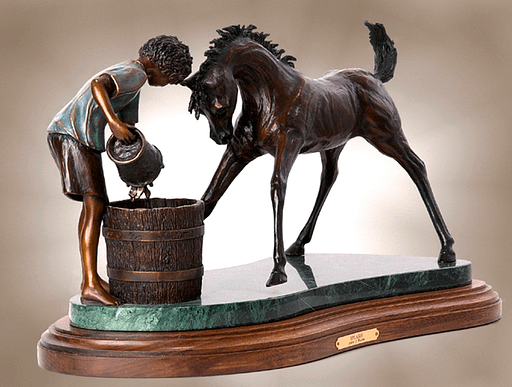 Description
"Splash"
Size: 11″ H x 18″ L x 9″ W
Limited Edition of 12
This representational bronze sculpture by artist Anita Watts captures the exciting spirit and lively personality of the special interaction of an 8 year old girl with her two month old Arabian colt. As the girl pours water into the wooden water tub, the splash of the water causes the colt to shy away from it. Curious, the colt wants to wait and see what the girl is doing, but caution tells him to flee from the strange sound of the splash.
Stay or flee? …the colt is caught mid air as he tries to decide what to do. Anita's sculpture, "Splash!", reflects life-like realism, balance, beauty, and grace in a dramatic moment frozen in space.
As you look inside the textured wooden water barrel you will see the "splash" coming back up at you. The girl holds the bucket as the water flows out. When it hits the water in the barrel it causes the back-splash that alarms the colt.
This sculpture is done in a rich variety of textures. From the rough wooden water barrel, to the battered tin bucket, to the girl's ultra-smooth skin, to the colt's chiseled look, each area gives a visual stimulus of texture and detail. Mounted on a solid hand-made walnut base with Dark Hulian Jade Marble under the sculpture figures, this piece is wonderfully finished.